Woodleigh events
Flipping the Script: Students to Staff
WOODLEIGH'S 2022 YEAR 12 TRAINEES
Being big believers in helping young people get job ready through meaningful on-the-job education, Woodleigh has offered traineeships through the AFL SportsReady traineeship program for many years. AFL SportsReady is a national not-for-profit that has launched the careers of thousands of young people in fields as diverse as IT, Media, Visual Arts and Sport. In 2022 all three of our trainees were past students. We had a chat to Harrison Robertson (2021) Anika McClean (2020), and Aidan Bolch (2021) – to hear about their experience.
Read the full article
2022 Reunion Reflections
IT WAS THE PERFECT DAY TO COME BACK TODAY IN WOODLEIGH'S BUSH CHAPEL
When you leave Woodleigh, the Woodleigh stays with you. We spoke to Three Woodleigh alumni about what it felt like returning to campus for Reunion in late 2022, and the Woodleigh qualities they carry with them to this day.
Jess Miller (2001), Ryan Wheatley (2002), and Gabi Stanszus (2012) reflected on their time at Woodleigh School.
Apart from my friendships, probably the biggest lesson I took away from Woodleigh was the understanding that fitting in is boring. Caring about the things you actually care about – no matter how niche – is the best ticket for a life well lived. Gabi Stanszus
Read the full article
Making a Difference in the Community
WE LOVE IT WHEN PAST STUDENTS COME BACK TO SHARE THEIR STORIES!
Tahnee Burgess (2011), Dylan Bolch (2019), Caitlin Russo (2012) and Vanessa Weir (2011) returned to Senior Campus for our 'Making a Difference in the Community' Careers Assembly in Term 2. Addressing a crowd of Year 10 to 12 students, they spoke of their post-school journeys through tertiary education, employment progression and the twists, turns and reinventions that make up the passion and purpose-finding process that is building a career.
Read the full article
Mother's Day Out
IN WHAT IS BECOMING A MUCH-ANTICIPATED STAPLE IN THE WOODLEIGH CALENDAR, MUMS, GRANDMAS AND SPECIAL WOMENFOLK ENJOYED A LEISURELY LONG LUNCH AT MERRICKS GENERAL STORE BACK IN MAY IN CELEBRATION OF MOTHER'S DAY.
During the lunch, guests were treated to a Q & A with two well-respected and admired Woodleigh alumni; Mel Gleeson, Founder & CEO of Endota Spa, current Woodleigh parent and Woodleigh Board member; and Emma Cleine, Founder & Owner of Lumiere Art & Co, current Woodleigh parent and Leader of the Arts Learning Area.
Through an engaging conversation, Mel and Emma challenged Woodleigh women to take risks, to back themselves, and do something they are passionate about. Thank you so much for sharing your story with us!
Read full article
International Women's Day Luncheon
INTERNATIONAL WOMEN'S DAY THEME WAS 'BREAKING THE BIAS', AND WE WERE BLESSED TO HAVE CURRENT RICHMOND AFLW PLAY & 2016 GRADUATE MEG MACDONALD AS OUR GUEST SPEAKER AT THIS YEAR'S LUNCHEON.
My Woodleigh experience was so rewarding and I feel it supported shaping who I am today. The teachers were quite remarkable, there was so much diversity throughout the school, and you could always find someone you connected with.
Read the full article
Alumni Panel
A panel of our Woodleigh alumni returned to their old hood, to speak with our Year 8 Humanities students. As accomplished business owners, leaders and entrepreneurs, their stories made for perfect real-world inspiration.

In the context of learning by doing, our Humanities kids, embarking on a hands-on inquiry project in their Business Enterprise studies, were privy to our panellists' wildly different paths, passions and versions of success in a changing world.
The five spoke openly about their lives and experiences, touching on innovation, adaptability, ethical and unethical practice, and sustainability. A takeaway from the discussions was that knowing yourself and what you care about is hugely significant.

Thank you to Artemis Kothrakis, a 1996 graduate, and Director of Seen Promotional Co and Ecolyfe.
Paige Busbridge, a 2015 graduate and co-owner of Om Som Yoga and Ayurveda.
Linda Crittenden, Minimbah and Senior Campus Parent, and owner and manager of Lakeside Villas at Crittenden Estate.
Andrew (Chewy) Chew, Penbank and Senior Campus Parent, and past Director of the highly successful No Vacancy Gallery in Melbourne's CBD.
And Sam Stewart,
We are grateful for the wisdom and stories of success and failure, ups, downs and transformations, and for their strong contribution to our shared community.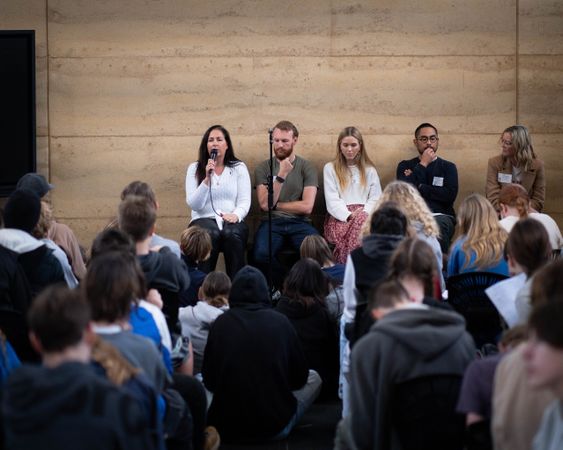 Over the years, Woodleigh assemblies have produced some very memorable moments. Each era will undoubtedly have its favourites, and at the end of Term 2 2023, our Arts Assembly produced a couple of absolute gems!
Live music, coupled with live portrait painting, student films and test pieces and a series of inspirational videos from past students, showcased the breadth and depth of our past students' professional journeys.
Thank you to Actor – Ella Cannon (2008), Jazz Harpist – Tara Minton (2003), Landscape Architect – Brett Robinson (1999), Musician – Maddy Kelly (2009), Glassblower – Leisa Wharington (1977), Arts Industry veteran and Producer of Get Krack!n Tamasin Simpkin (2003) and Furniture Refinisher – Tamara Gidney (2002), for taking the time to pass on your experience and wisdom to our current crop of budding arts professionals!
Tamara Slocombe (nee Gidney – 2002)